Hey, friends!
It's Lindsey, back with a new blog post! Aside from my Community Service Initiative, "The MOVEMENT Movement," promoting inclusion is something extremely important to me. From teaching multiple adaptive dance classes, to having the opportunity to attend multiple special needs fundraisers and events (including one with Utah's First Lady, and Miss America, Emma Broyles!) getting to spend time with those that have intellectual disabilities is inspiring. 
Throughout my time as Miss Utah and my life, I have made it my mission to create a more inclusive community. For this blog post, I wanted to give you a glimpse into how I got started teaching adaptive dance, highlight one of my amazing friends and sisters, Emma Cheney, and share simple but impactful things you can do to be more inclusive. 
The Importance of Inclusion in My Life
Growing up, I had a friend in my dance class named Claire, and she had a sister with an intellectual disability. Claire's sister always danced in the hallway but was never allowed to come into mine and Claire's dance class because of her disability. This is something that really affected me at an early age, and I knew I wanted to change the way people viewed individuals with intellectual disabilities. Flash forward to a few years later when I was dancing at Ballet West Academy. I joined the Movement Mentor program- a ballet class for individuals with intellectual disabilities. Being a part of that program taught me how to be a patient, loving, and adaptable teacher. 
While in high school, I had a friend with down syndrome who loved to dance. Our school played music in the halls as we ventured to our classes and he would dance in the hallways as kids circled around him cheering him on. The inclusion that I witnessed at my school inspired me to always show love and support to those with special needs as often as possible. To make everyone feel a part of the group and feel seen. To never let someone feel left out. 
The physical education teacher at my high school also taught the adaptive P.E class. She knew my best friend and I were dancers and mentioned how every Friday the adaptive P.E. class would have a dance party at the start of class. They usually would watch a video and try to copy the dance moves, but it was tricky for some of the students to pick up the choreography without having someone physically in front, teaching it to them. Because of my background of teaching at Ballet West's Movement Mentor program, my friend and I offered to teach and thus it became a recurring opportunity. The students absolutely loved getting to learn from someone physically in front of them and the teacher even noticed a significant impact on their movements. This experience led me to start my own adaptive dance program my junior year of college.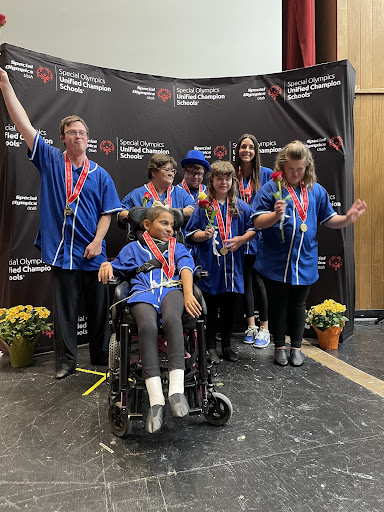 As the current head coach for the All Stars- my Special Olympics dance class, I have been able to foster a place of inclusion much like I had seen in my high school. Our class meets every Tuesday for 45 minutes where they learn required dance steps, build friendships, gain confidence, and leadership skills. Recently, the All Stars competed at the first ever Special Olympics Dance Championships in Utah where they grabbed the audience and judges' attention and received gold and silver medals in two different categories! They also have recently been invited to perform at a community event and are ecstatic to share their passions with others. I have loved creating a safe space for all to express themselves freely through the power of dance.
Honorary Miss Lehi Program
While serving as Miss Lehi, my local title in the Miss America Organization, I was introduced to the Honorary Miss Lehi Program, which awards two young women with intellectual disabilities to be a queen with the Miss Lehi during her year of service. This program was founded over 20 years ago by Toni Carter of Lehi. She wanted to let any girl with an intellectual disability that had a dream of being a princess happen. During my year, I had the opportunity to work with four extraordinary young ladies who have forever changed my life. 
Honorary Miss Utah, Emma Cheney
When I became Miss Utah County, I wanted to continue the work of inclusion that Toni set forth so I crowned the first Honorary Miss Utah County, who is now the current Honorary Miss Utah, Emma Cheney! She is an eighteen year old bubbly, soda, and Reeses loving young lady with down syndrome. As Honorary Miss Utah, Emma accompanies me to events around the state, giving her the chance to serve Utah at a similar capacity as a Miss Utah does. This gal is pure sunshine! Some of her many superpowers are making everyone around her feel loved, included, and giving the best hugs. She is always thinking of others. During Emma's crowning moment at school, she wanted her friends to come up and join her so they could also share that special moment.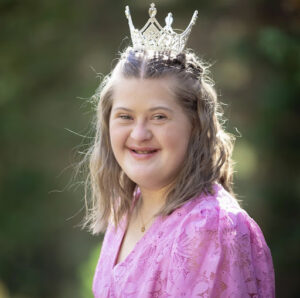 Ways We Can Be More Inclusive
Don't Assume What Is or Isn't Possible
Disabilities affect all different types of people. Just because one person is affected one way, doesn't mean someone will be affected the same way. We can't determine what someone's capabilities are so it is best to learn and understand first before just assuming.
Use Inclusive Language
Oftentimes the language surrounding people with disabilities often focuses on the disability rather than the person. A disability may be a part of someone's identity, but it doesn't define them. It's important to refer to the individual, person or people first, rather than the disability. This is called person-first language. Instead of saying, "they are wheelchair bound," you can say, "they use a wheelchair." Another example is instead of saying, "intellectually disabled people," say, "people with intellectual disabilities." 
Be Patient!
Take the time to truly be an active listener when speaking to someone with an intellectual disability. Let the person speak and react at their own pace. Refrain from trying to finish their sentences or step into the conversation too soon without letting them finish their thought. This is something we all can work on in our everyday conversations.
Adapt
One of my students uses a wheelchair so it is very important to me that I create dance movements that anyone can do, not something that only pertains to certain people. Everyone deserves to feel comfortable and able no matter their circumstances.
Just as Eunice Kennedy Shriver, founder of Special Olympics saw little justice in the way people with intellectual disabilities were treated, she began to see that sports could be a common ground to unite people from all walks of life. We too can open our eyes to seeing the injustices around us. Being more inclusive is something that anyone can do. Inclusion isn't just for one group of people, it isn't something political, it's something we all can strive to improve on. I truly believe that we can unify communities through the power of inclusion.