Many people have asked, "Was it just the best time of your life?" Well, so far yes! My two weeks at Miss America were nothing short of amazing! But, I would like to clarify that statement. It was the best time of my life so far. It's been a little bit difficult adjusting back to life because I spent the first bit of my time as Miss Utah focused on competing, but I know that this was a stepping stone in my life.
Traveling to Miss America
My journey started with some crazy flights! I headed to the SLC International Airport bright and early. Even though I was sitting near the entrance of my flight, I somehow missed it. After a hectic race around the airport to find someone that could help me, I was put on a plane that would reroute me through Dallas rather than Phoenix.
Once on the plane, there was a delay so when we got to Dallas, we had all missed our connecting flights! Now after missing two flights, I was on the search for a flight from Dallas to Philadelphia. When I got my ticket, I found out I was on standby. So now not only was ALL of my Miss America luggage sitting at the airport (hopefully), but I didn't even have a for sure flight to Miss America. After a 12+ hour day of airport surprises, I finally made it to Philly where I jumped on a bus to Atlantic City. Luckily, everything got there safe and sound!
Miss America Arrival Ceremony
Arriving at the iconic New Jersey boardwalk was so exciting! Everyone there was so supportive and excited for everyone! Each spectator had their program book out and wanted to call each girl by name and cheer for them. I felt so honored to be there representing Utah!
We then went to a clambake. I was super excited for this because I had never been to anything like it! Each contestant was placed at a table filled with people we didn't know. We all went through the line and filled our plates with all kinds of seafood! I knew that if I were to try lobster anywhere, I would want to try it in Atlantic City. I asked the server to give me the most user-friendly piece. He gave me a couple of claws to try.
I asked the gentleman sitting next to me (who I had met 5 minutes before) if he could show me how to eat it correctly! He taught me how to pull the claw apart to reveal the rich meat inside. Next, it was my turn, I tried to follow his directions, and while I was successful, half of the claw remained in my hand while the other half flew across the room and hit a waiter! I was SO embarrassed but pleasantly surprised with how much I enjoyed the food!
Miss America Roommate
My roommate was the BEST! I had the privilege of rooming with the ever amazing, Jessica Proctor, Miss Alabama 2017. Jessica made it into the top 7 and won the Quality of Life Scholarship. This scholarship is given to the contestant who has dedicated everything to their platform. They chose the right girl! Jessica's Platform is "Step up to the Plate, Decreasing Food Insecurity." She has volunteered all over her state helping prepare and collect food for those in need.
Going into Miss America, one of my biggest worries was not getting paired with a good roommate. I was calm about everything that I could control, but a roommate wasn't one of them. I was so worried that we wouldn't get along. Let me tell you though, Jessica is one of the most amazing individuals ever, and if we lived closer to one another, I am sure that we would be together all the time! I genuinely love my Alabama sister! We had way too much fun with the room service and shared stories when we should have been sleeping.
We even had matching clothes! Before I was assigned my roommate, I had approached a company in Alabama about sending me some workout clothes I could wear for Miss America rehearsals. Rep Active Art was very excited and willing to sponsor several unique outfits. After learning more about the program, the owner reached out to Miss Alabama as well! We ended up as matching roommates, and it was SO fun!
Service at Miss America
Before competition week began, we had the opportunity to visit the Atlantic City Mission. My group was assigned to the women and children. When I heard about the opportunity, I instantly knew that I needed to bring my violin. I knew that it would be a blessing to the people there. I begged to take Sam with me and luckily got it approved!
We sang and danced and I was inspired to let them play a little as well (which you know rarely happens). The younger boy was VERY active and hyper, so I was very nervous. When he made his first sounds on the instrument, he smiled with glee and ran over to show his mom. She got teary-eyed and thanked me. At that moment I knew that regardless of what happened at the end, I had touched someone's life and that I could continue to do that. I ended up seeing this same family at the shoe parade! They remembered my name, called out to me, and ran up so we could catch a quick picture!
Miss America Preliminaries
My first night of preliminary competition was in talent! While I had a couple of things that made the day and rehearsal very stressful, in the end, my life of hard work paid off, and I was able to come away with the talent preliminary. I knew it could have gone to several contestants in my group, so I felt very honored to have been selected as the winner that evening!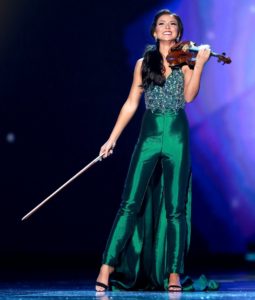 The second evening was the on-stage question. The preliminary questions were about the application of our platforms. I was so happy to have the chance to share my story and let the judges know why my platform is so important. I felt very confident walking off the stage.
Finally, on the third night, I had the chance to model my beautiful swimsuit and evening gown! I was so worried about the swimsuit portion. I knew that I had worked so hard and I could see a difference in my body, but could others see that? Every girl had a fabulous body and walk. It was hard for me to stand backstage next to them all and feel positive about myself. I remembered a piece of advice that was given to me from my Miss Utah when I was Miss Utah's Outstanding Teen, Ciera Pekarcik McCausland. "Swimsuit is won from the collarbone up." I took that advice, and I walked down Boardwalk Hall with CONFIDENCE! I was so proud of my performance and for facing my fear.
Evening gown was a dream. I have had the opportunity to wear many fantastic dresses, but this red beauty was my favorite hands down. It made me feel so confident and powerful. It helped me embody a part of my soul that doesn't always get seen. On top of the way it made me feel, it also had all of the aspects that I love in a gown, simplicity and asymmetric design.
Miss America Finals
This was one of the hardest nights of my life. Sitting up on the Miss America stage and watching the 15 lucky women chosen to compete for my dream job was heart-wrenching. Of course, I was excited for all of them and especially my roommate, but I couldn't help but wonder, "What did I do wrong?"
The answer is nothing! People look at these situations and see one winner, 14 almost winners, and 36 losers. I worked so hard and did everything I could do to prepare for the experience. There is a time, place, and person for every situation. I was not meant to be Miss America, and that has become okay! All that says is there is an important reason that I was selected as Miss Utah, and I better work my hardest to fulfill that job because THIS is where I was meant to be.
Two weeks of filming, dinners, dances, laughing, crying, naps, rehearsals, losing, and winning was quite the ride! I have had SO much support in my journey, and I cannot thank you all enough. It's said that you are more likely to compete in the Super Bowl than in Miss America so I hope each of you is so proud because YOU competed in Miss America too! I would not be who I am without each of you so thank you from the bottom of my heart.