Hey everybody, it's Sasha!
This is my first blog post since Miss America, and WOW, do I have a lot to unpack! Competing at the 100th Anniversary Miss America competition was adrenaline-packed, humbling, and absolutely surreal. It takes a lifetime of work to make it to the Miss America stage and getting to compete with state titleholders from all across the country felt like my version of playing in the Superbowl. I was so honored to make the cut as a Top 10 finalist for Miss America, and I still can't believe that I got to play a part in a little slice of history at the centennial event! 
In this blog post, I'm going to recap my 5 favorite behind-the-scenes moments at the Miss America competition!
1. Rehearsal Fun
Candidates for Miss America arrive several days before the competition actually begins. We all spent those first few days primarily in rehearsal. One of my favorite afternoons was when we had a bit of downtime during interviews with Rebel Athletics. We were each given a "sparkle couture" Rebel outfit, and mine had one silver shoulder that bore a strong resemblance to Marvel's "Bucky" or the Winter Soldier! I had an absolute blast chatting and learning TikTok dances with the other state titleholders – you can watch one of our cinematic masterpieces below.
View this post on Instagram
2. Pre-Interview Memories
Ahead of my private interview, I was taken to wait in a "holding room" with a handful of other state candidates. We snapped a picture on an iPad to capture the moment, and – fun fact – Miss America 2022 herself was actually in that group!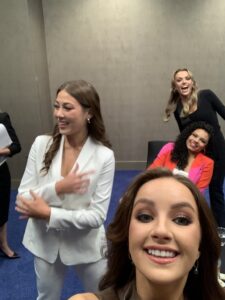 Naturally, we were all chatting together while waiting to ease our nerves. At some point, Ashleigh Robinson (Miss Oklahoma) started doing this little skit with onstage question impersonations that literally had me wheezing with laughter. I never expected the other state candidates at Miss America to be so witty and funny! There wasn't one day of my Miss America experience where my abs didn't hurt from laughing. That moment with Ashleigh before our interviews is a highlight I'll never forget, and I know I'll always look back and be grateful that I walked into my interview at ease because of my Miss America sisters. 
3. Our Miss Maine
The atmosphere for the candidates at this year's competition was very unique. I would describe the overall vibe as inclusive, uplifting, and totally supportive. Each of the women that stepped onto that stage have successfully fought through a pandemic, and a year of cancellation, to earn their job. We've all heard the word "unprecedented" countless times, and each of us has a story about what we've had to sacrifice and persevere through to make it to our dream of Miss America.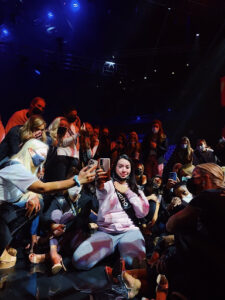 I believe that this context granted the group an extra generous dose of grace and professionalism. Another factor contributing to the unique mood was that one of our sisters, Miss Maine, Mariah Larocque, tested positive for COVID and was forced to withdraw early in the competition. I have the deepest respect for Mariah, and her influence was absolutely felt throughout the week. For example, our class chose to unanimously vote her "Miss Congeniality" so that she would receive those scholarship funds. One of the most emotional, special moments was when we Facetimed Mariah as a class ahead of the final show.
4. Escorting a Forever Miss America
After the Top 10 were trimmed to a Top 5, the eliminated candidates were ushered backstage to pack up their stuff before the show ended. I hustled to change and pack my things, but with the way that things happened backstage, I didn't make it in time to walk on stage with the other 50 candidates for crowning! I made it to the wings right as the Forever Miss Americas were beginning to parade on stage, and the production team whispered to me that I should take the hand of a Forever Miss America – whom I had never met – and escort her onstage! Thankfully, she was as gracious as you could imagine, took my hand, and I got to make my last entrance on the Miss America stage in a very memorable way. 
5. Deep Talks with Miss South Carolina
My absolute favorite moment of Miss America took place in the morning before the final competition. We had a break in-between rehearsals, so all of the candidates were spread out on stage and talking amongst each other. During this time, Julia Herrin (Miss South Carolina) and I sat together staring up at the stage lights and had a long, deep conversation about our feelings throughout the week and God's plan for each of us. It was a conversation I'll treasure forever. Julia is a woman with immense personal integrity, and I was so deeply inspired by her (and all the other women) throughout the week!