Generally, pageant women and SO's (significant others) have largely been a taboo topic at least in the public sphere. That means no posting, no promoting, or PDA while in the public eye. In the Miss America titleholder contract, there is even a clause which specifically bans any engagement announcements. It makes sense and has always made sense to me why this subject has only been discussed in hushed tones and far from the searing social media spotlight. As titleholders, we are public figures and our job description does not include making sappy Instagram posts on our titleholder accounts or making public displays of affection while at an appearance.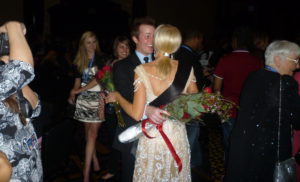 But what about behind the scenes? Is it okay or even beneficial to have a significant other while competing, or are they only a distraction? I have some thoughts…
At the Miss America Competition, I was surprised to discover that over 40 of the contestants had a SO in their lives. I found it interesting that the majority of us were in relationships and began to wonder what that said about pageant women in general. A lot of us came to the conclusion that who we are as people and our lifestyles make having a SO a very likely option.
That's not to say that committed relationships are for everybody while competing in pageants. Having a SO while serving as a titleholder can either be the biggest help or hindrance. If you are in a relationship with someone who is very attached and in need of lots of attention, a titleholder's job performance will inevitably suffer.
I've had times in the past where my goals and ambitions have differed from my then partner's, and it was very difficult to be the best in my role that I could be. I've also had friends and local titleholders communicate to me in the past that they've felt stretched because their significant other was pressuring them to spend the time they didn't have with them. 
For myself personally, I've been both single and in a relationship throughout my pageant journey, and so I understand both sides of the spectrum. Being single as a titleholder is easy in a lot of ways: all you have to worry about is your schedule, and it's very empowering to know that you're a single, independent woman who's simultaneously embracing her femininity and effecting positive change in the world.
But on the flip side, there were times where I came home late from events feeling completely alone and wishing I had someone waiting for me; I wanted someone who "got" me. The loneliness might not seem like a big deal, but when you're constantly serving and investing your energy in other people… it can become very draining and more times than not you need another person to replenish it. For me, if I didn't have a significant other, being Miss Utah would still be extremely rewarding but very lonely.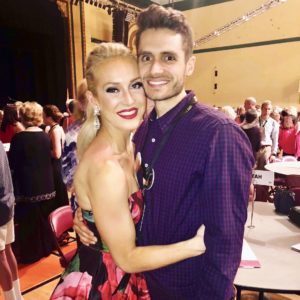 As Miss Utah, my life has been consumed with Miss America preparation, planning events, scheduling events, making appearances, and more. Most of my nights and weekends are taken up with Miss Utah duties and so I naturally don't have the time to be single and engage in small talk with strangers over a plate of food.
That's why having a solid relationship has been the biggest stress reliever. Having someone who understands my job, why I do what I do, and who won't be offended if I have to spend all weekend at a service project or pageant is one of the greatest blessings. I also love having someone who provides solid advice, and who can cuddle up on the couch to watch The Office with me at the end of a long, appearance-filled day.
Aside from that, SO's make THE BEST cheerleaders. They become the biggest fans, and it means so much knowing that you have a proud partner cheering you on from the sidelines.
My theory is, if you find an ambitious person who respects your goals and wants you to succeed, you can't go wrong. But, it also comes down to the woman making the decision. Some may thrive on being single and independent; they may not feel the need to commit and settle down.
I know so many women who stayed single as titleholders and found so much success, and I've known plenty of others who had a wedding looming on the horizon and were just as successful. Whether you're in love with someone else or just loving your independent status, you can be an outstanding titleholder.
What has your experience been with dating and participating in the Miss America Organization? Share your thoughts in the comments below!