Today the Miss Utah Organization announced that the 2022 Miss Utah Competition will take place June 9-11, 2022 at the J.Q. Lawson Capitol Theatre in Salt Lake City, Utah.
The 2022 Miss Utah Scholarship Competition features 42 of Utah's most dynamic women from all corners of the state. Each candidate brings talent, intelligence, and poise to the Miss Utah stage. Over the four-night competition, these accomplished women will compete in the areas of private interview, talent, on-stage question, red carpet, and social impact initiative pitch. Tens of thousands of scholarship dollars are awarded for excellence in academics, service, and artistic expression. After three nights of preliminaries, the judges will narrow down the group to a Top 12, who will compete for the job of a lifetime – Miss Utah 2022.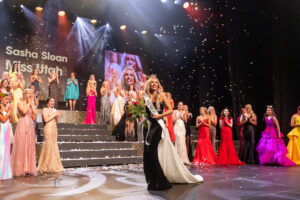 Season pass tickets are now available to purchase. Individual tickets will go on sale on May 16, 2022, at 10:00 am MDT.
Purchasing 2022 Competition Tickets
Purchase online at www.arttix.org or
Purchase by phone at 801-355-2787 or 888-451-2787
There will be no in-person ticket sales this year

1. Season Package Tickets
On sale May 2, 2022 – Includes tickets to all four competitions of the Miss Utah Scholarship Competition
Scale 1 – $200.00
Scale 2 – $180.00
Scale 3 – $160.00
Scale 4 – $140.00
2. Individual Seating Tickets
On sale May 16, 2022
Thursday & Friday Night Preliminaries
Scale 1 – $55.00
Scale 2 – $50.00
Scale 3 – $45.00
Scale 4 – $40.00
Friday Matinee
Scale 1 – $35.00
Scale 2 – $30.00
Scale 3 – $25.00
Scale 4 – $20.00
Saturday Night
Scale 1 – $65.00
Scale 2 – $60.00
Scale 3 – $55.00
Scale 4 – $50.00
Balcony $65.00