Hello everyone! 
Lindsey here with another blog post. Today, we're going to talk about STEM!
What is STEM? It stands for:
S– science
T– technology
E– engineering
M– math
We just celebrated The International Day of Women and Girls in Science on February 11th, which is designed to celebrate the essential role that women and girls play in science and technology fields.  As a woman pursuing a degree in ballet and exercise science/kinesiology, I wanted to share my STEM story with you all.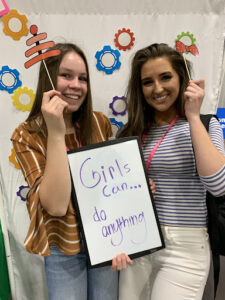 Women in STEM are underrepresented. In Utah, women hold 23.5% of the STEM sector jobs as compared to the 28.8% for women nationally. How do we raise these statistics? By helping young women feel welcomed into STEM related careers! When I was in elementary school, I really struggled with math. Even so, I had to be in math tutoring. Because of this experience, I knew I never ever wanted to go into a career where math was a substantial part of my job, (even though I had to find out later that math and science is all around us lol). So, why are young women like me intimidated by STEM?
1
.
Lack of role models
We see few women pursuing STEM fields because of a lack of  role models. We often gravitate to view role models that seem like us because if someone like us can achieve their dreams, we can too. The lack of females in the STEM fields means that girls have less people like them to look up to. Through a Utah high school program for young women called SheTech- a hands-on tech conference for high school girls from grades 9- 12 that includes hands-on workshops in science, technology, engineering, and math, I was able to meet women role models in STEM occupations, thus encouraging me to go after a career like them. 
2. STEM can seem scary 
I'll grant you that STEM classes are not easy. They require commitment. About half of adults (52%) say the main reason young people don't pursue STEM degrees is the belief that STEM subjects are too hard. I was one of those people until I realized that STEM isn't just being a scientist, engineer, or software developer. STEM can be fun and it affects various occupations. While in high school, I attended SheTech Explorer Day where I took a class on kinesiology- something I didn't know much about. During the workshop, I learned the field of kinesiology focuses on the scientific study of human movement and how physical activity and sports affect our quality of life. As a dancer, this really fascinated me and I felt a connection to it. While I was in college taking classes for my ballet degree, I was required to take a kinesiology class. That early exposure to kinesiology from SheTech made me enthusiastic for the class and ultimately helped me decide to pursue it as a minor in addition to my major. When we show young women that STEM doesn't have to be scary, they can find a connection and can make it a passion.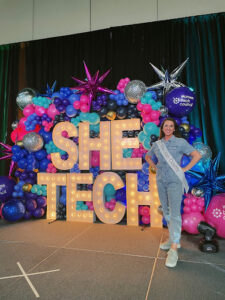 With SheTech Explorer Day  coming up on February 28th,  I want to encourage all young ladies to go this year! The day is tech interactive and enables girls to experience, innovate and create. Girls start in the morning with working sessions where they explore tech, such as robotics, computer programming, digital media, health, and microbiology. They then hear from inspirational females and industry visionaries. In the afternoon, the girls participate in the TechChallenge where they work with industry mentors as they ideate, solve, and pitch their solutions. This year, SheTech Explorer Day will be taking place 9 a.m. – 1 p.m. in Sandy at the Mountain America Expo Center for grades 9-12. I hope as many young ladies as possible can join and participate! 
Register and learn more below: 
https://womentechcouncil.ca1.qualtrics.com/jfe/form/SV_0wu7qa0wL3BXlRQ