I've been very excited to present my first "Service Spotlight" on Tabitha's Way. This is an organization I have been working with since I was young. Tabitha's Way is a local food pantry that works through donations and volunteerism.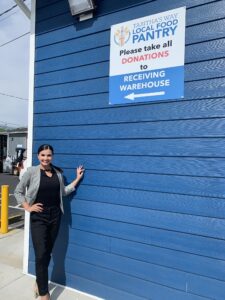 Did you know that one in five children is food insecure? And that 78,000 people in Utah County alone are at or below the federal poverty line? Tabitha's Way is fighting to help each family and child get the necessities they deserve with each of their 150 bin locations across Utah. 
Currently, Tabitha's Way is taking donations to help create backpacks for children in Utah without the essentials to attend school. They are accepting crayons, pencils, glue, scissors, etc. Visit their website to see how you can be of service.
I've had both the opportunity in past years to assemble the backpacks and distribute them. Seeing the smile on a child's face upon receiving something so key to their schooling experience is completely humbling. I have loved being involved with this organization for so long and seeing the difference in other's lives they make. 
Check out my Service Spotlight interview with the founder of Tabitha's Way to understand what it is they do and how you can help. They are a fantastic organization that is making an impact in the day to day life of so many Utahans. See what small simple ways you can contribute to help make someone's life a little bit better.