I had the pleasure to interview the Ronald McDonald House Charities (RMHC) in Salt Lake City. Their motto is "keeping families close," which is very important during these tiresome and troubling times. Allowing families to give their children the medical attention they deserve while staying in close contact with their children is so valuable for their development and healing. 
"Since 1988, Ronald McDonald House Charities of the Intermountain Area has been keeping families close in a place that feels like home – providing stability and resources when they need it most.  The mission of Ronald McDonald House Charities of the Intermountain Area is to surround families with the support they need to be near and care for their seriously ill or injured children. We provide a home-away-from-home to ease daily burdens and empower families of hospitalized children with meaningful experiences and quality time together. RMHC is committed to providing exceptional programs for families with seriously ill or injured children with fiscal responsibility, accountability – and thoughtfulness."
The thing I  admire most about RMHC is its openness to the families and trying their very best to never turn anyone away. Each family is given a place where they can feel at home by providing activities and moments for them to feel normal even just for a moment.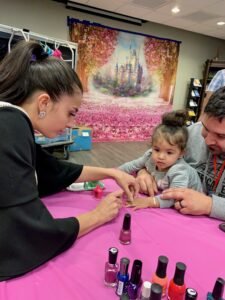 I had the opportunity to volunteer with RMHC while doing a spa night for the mothers. Giving them a moment to relax and take a moment for themselves. It was wonderful to witness them unwind and be their true selves again. 
Family is one of the most important assets for a child's growth. But having family members near their children during such hard times is necessary for their well being. The Ronald McDonald House Charities provides these families with both, which is why their initiative is so valuable. Each family deserves the very best and the RMHC is making sure of that. 
Watch Dexonna's interview with Kasey Pecor, the Outreach Director of the Ronald McDonald House.