Where do I even begin? I think the best way to describe my time was that it felt similar to the way I felt as a seven-year-old visiting Disneyland for the first time: the princesses, the rollercoasters of emotions, the glitz and glam, all the walking, the neverending excitement…yep. Miss America Orientation in a nutshell.
I would need to write a novel to truly give justice to everything that happened, but I'll just highlight the best bits and save the rest for when I will have to stall as a pageant emcee.
Axuray
Axuray was incredible all week long. She stood out on the MAOT stage because she has a light about her that sets her apart. She had high energy onstage and rocked each competition. Her pushup was phenomenal, her talent was beautiful and smooth, and her onstage question in her evening gown was delivered so calmly and professionally.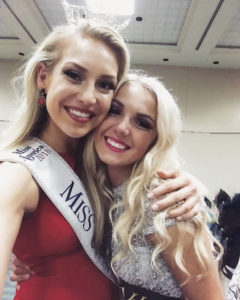 Something that made me so proud was when a crew member approached me as I was signing autograph cards and said, "Your teen made me cry today…she wrote me the sweetest note, and it just made my day."
Crown or no crown, that kind of kindness is what makes a winner. I'm so proud to have a little sister that lives her life with compassion and shares it wherever she goes. Utah's pretty lucky to have her.
Miss America Sisters
What I loved about meeting my Miss America sisters was that my perfect ideal of a Miss America contestant was smashed in the best way possible. Guess what? Miss America contestants are HUMAN. They're imperfect. They eat Ben and Jerry's and french fries, they don't always have perfect hair days, they get nervous about posting videos of themselves on social media, and they had insecurities walking into orientation – just like me.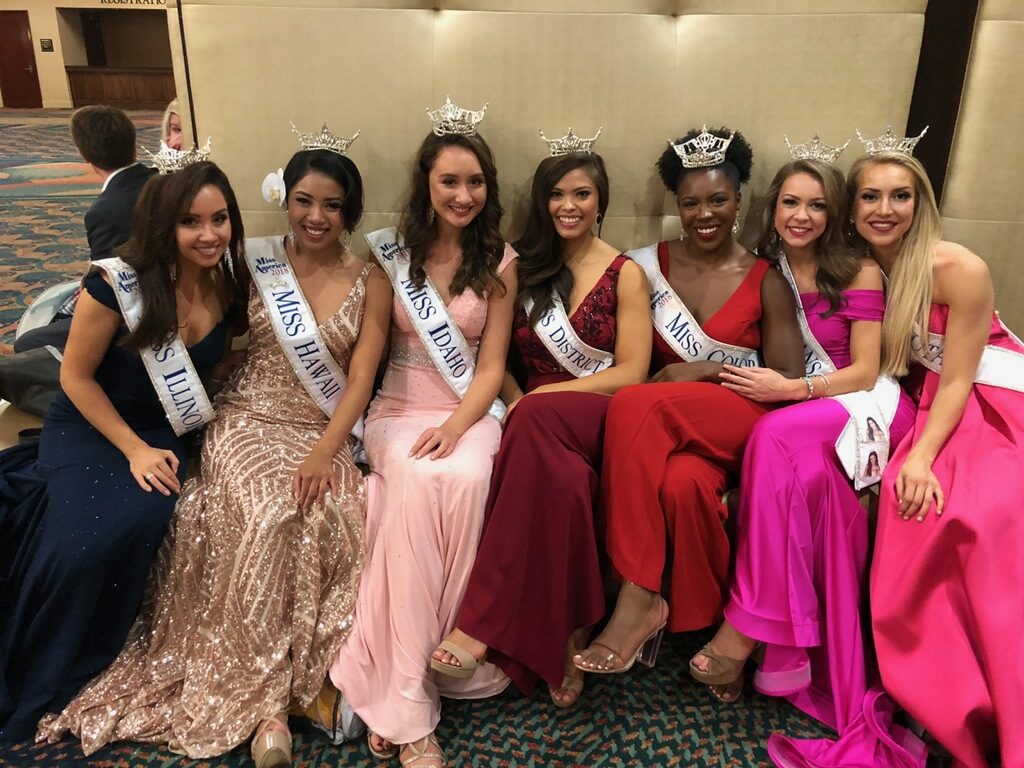 Seeing that I wasn't the only one who felt imperfect or scared about the whole experience was such a relief.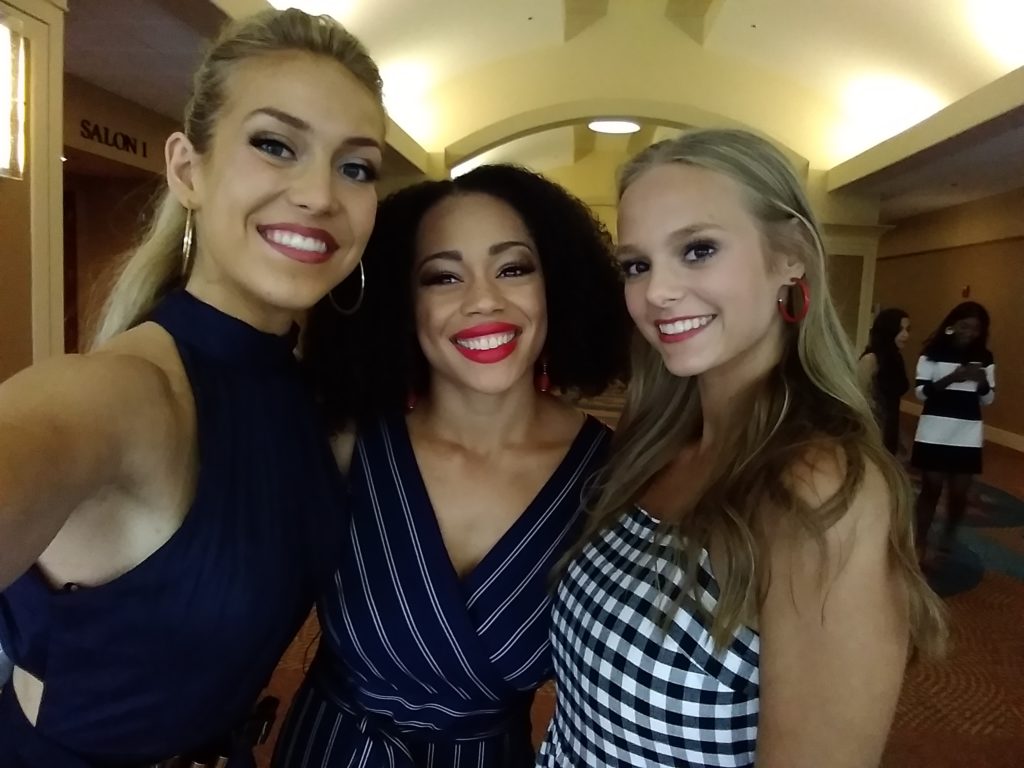 We stayed at the Rosen Centre Hotel for the week, and Miss Washington, Danamarie McNicholl, was my roommate. We had the best time getting to know each other and have similar personalities, so we got along very well. She's pursuing a career as a reporter and has a cool way of implementing her skills into her life as Miss Washington. Go check her out to see what I mean.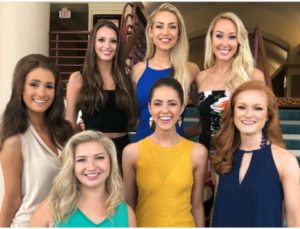 I loved talking with and getting to know the girls. We took plenty of selfies, helped each other out with the lighting for pictures, discussed love lives, TV shows, college, Miss America, and more. Some of my favorite memories were messing around with different Instagram filters on Miss Alabama's Instagram Live, hanging out post-pageant at the restaurant by the pool, getting to know one another as we walked to and from the MAOT competitions, and doing the "Chicken Dance" at the CMN Dance-A-Thon.
Children's Miracle Network Dance-A-Thon
For the CMN Dance-A-Thon, we went all out with our dancing. Poor Miss Idaho and I were not gifted with the ability to dance gracefully — a lot of it due to the fact that we are so tall — but we sure tried!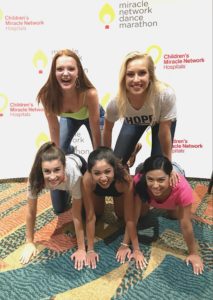 Then we had a competition of which contestants could get a floaty down the line the quickest without breaking the chain. My team, Alpha, really did our best but we came in last (but we were first in everyone's hearts).
I'm still raising funds for Children's Miracle Hospital so please visit my donation page to contribute!
I wish I could detail every conversation and every experience with these women, but it would take too long. What you should know is that we genuinely love each other. We don't just throw out terms like "sisterhood" and "best friends" for fun — we mean it. Even though we haven't known each other very long, this unique experience — and the fact that we're the first class to experience the new era of Miss America — has really bonded us together.
Miss America Orientation
During Miss America Orientation, we were briefed on the different phases of competition and also took parts in seminars on effective communication and social media marketing.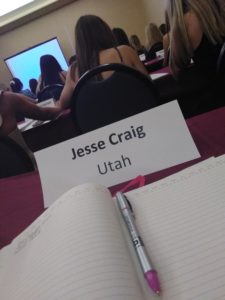 Miss America 1990, Debbye Turner Bell, discussed how to be a successful communicator both as a titleholder and in life in general. A former Miss California, Veena Crownholm, gave us exclusive tips on photography and social media marketing (they were much-needed and much-appreciated). And we were lucky enough to get advice on how to handle the press as well.
I learned a lot from the different women who met with us, and it was so helpful to receive useful skills that will help me throughout my year as Miss Utah and beyond.
Meeting Miss America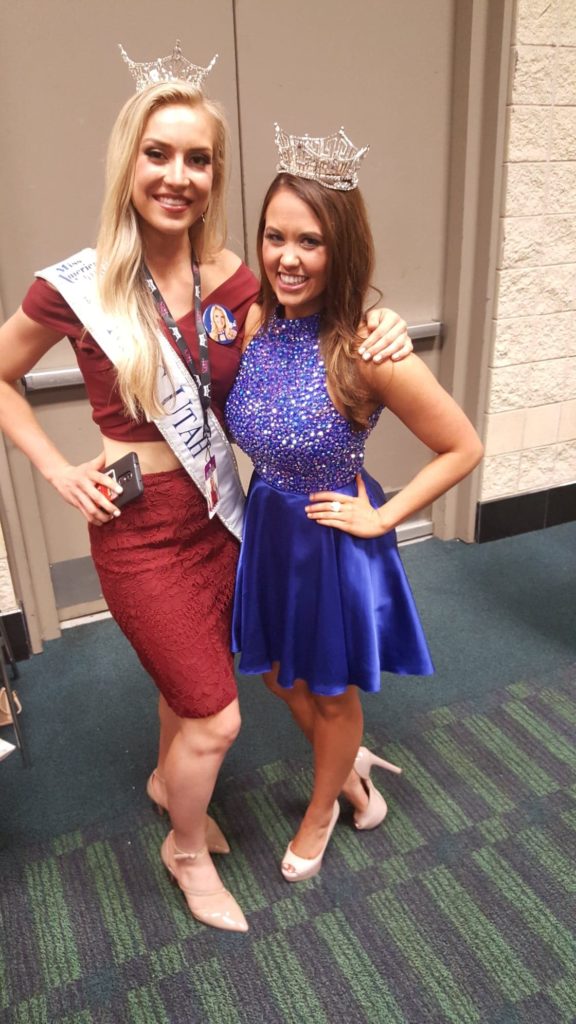 I first saw Cara Mund on the first night of MAOT, and she was seated across the aisle from me. She was so friendly and waved at me while I tried not to freak out because MISS AMERICA was waving at ME(?!?) I later went up and got a picture with her, and she is just as wonderful in person as she is on Instagram: she's warm, engaging, and makes time for everyone.
What I love about Cara is her strength. Cara is very sweet and kind, but that doesn't mean that she isn't tough; she has grit that not many people do. Her year as Miss America has been anything but easy and yet she still maintains a positive attitude. I firmly believe that everything happens for a reason, and she has been Miss America amidst all the changes because few women could handle it with the grace that she's exemplified.
My Miss America EVENING GOWN!
The first night in Orlando, I was able to visit with Carry and David from Regalia Magnificent Apparel. I tried on dresses for hours and narrowed it down to three dresses that I could see myself wearing on the Miss America stage. I decided that I needed some time to think, so I came back a few days later, tried on the right dress, and I just knew. I'm SO excited to show everyone on the Miss America stage. But until then, the gown of my dreams will remain confidential. (However, I will be showcasing my prep and wardrobe at my Miss America Send-Off in a few weeks, feel free to RSVP!)

Final Thoughts
Before Orlando, I wasn't completely comfortable with my role as Miss Utah — I didn't know if I was the right girl for the job. Now I can say that I know I am meant to serve in this role. I'm Miss Utah 2018 Jesse Craig, I'm here to use this title to bless other people's lives, I'm here for a reason, and I'm enough — all my nerdy quirks and all.