Message to 2021 Candidates and Local Directors:
We wish you and your families a healthy and happy holiday season! We can't wait to be reunited with the Miss Utah Family and have kept you in our minds over the past few months. We especially miss you this weekend, as we would normally hold our fall workshop. Due to the current spike of COVID-19 cases across the state and our governor's restrictions for meeting in groups, we are not holding a formal fall workshop this year. Please mark your calendars for a spring workshop and candidate lottery on March 20, 2021. Additional details and updates will be shared through email and our Facebook groups.
In the meantime, the Miss America national office is continuing their professional development webinar series for candidates and volunteers. We will keep forwarding that information as soon as we receive it. Also, keep an eye out for a state-sponsored professional development series in early 2021!
Candidates, we love watching your creativity in finding new ways to serve your community, promote your social impact initiatives, and share your talents. Thank you for continuing to make a difference in our state!
Directors, we recognize your hard work and applaud your efforts to mentor candidates, hold competitions, and so much more. Thank you for your dedication to this organization. We could not do this without you!
Happy holidays!
Sincerely,
The Miss Utah Executive Board
Update from Miss Utah 2019, Dexonna Talbot: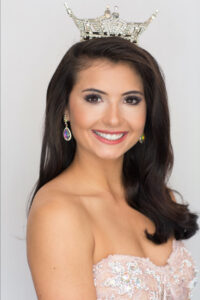 Serving as Miss Utah has been such a wonderful and exciting time, and there is so much more that I can't wait to accomplish. More people to serve, more hugs to give, and more smiles to share. Since accepting the opportunity to serve for a second year, I have been able to do just that.
Reaching out and sharing human connection during the pandemic took a lot of creativity and new ideas, but I have served in more capacities than I ever thought possible! I have worked with the Malinois Foundation, Safe UT, The Special Olympics, Utah County CJC, Dance for Life, Utah Pride, Mascot Miracles, Tabitha's Way, Feeding America, WHOlives, and the We Will Organization. The past few months have been more productive and service-oriented than I ever imagined.
Each day I learn something new about myself and the woman I am striving to become. I have also gone back to school full time to complete my degree at the University of Utah in ballet and special education and working as a ballet teacher.
I love this program and am forever grateful for everything it has given me and allowed me to accomplish. I am so excited to see what the rest of my time as Miss Utah has in store for me and am ready to continue to serve in any capacity that I can!