"Who's your favorite Avenger?" I blinked at the small boy, grinning. Crowns are among the world's most potent kid magnets, a superpower that comes in situations like these.  At 10:43 AM on a rainy April morning, I was 'on the road' at Lincoln Elementary, helping kindergarteners spend imaginary cash on prizes for good behavior. My newfound friend and I stood before a steel cabinet that brimmed with toys and dollar-store goodies; he seemed torn between the urge to ogle at the prizes – which were, admittedly, cool – or the rhinestones on my Miss Utah sash, which shined in the warm fluorescent light. Quite absorbed, he nearly forgot I had asked him a question. Still beaming at me, he answered in a grave whisper: "Spiderman." I nodded, and we moved to select a lego figurine that matched his preference. 
Earlier that morning, I was wrought with anxiety. Should I wear my crown? Will they have too many volunteers…. Or not enough? However, as I stepped into the school, my nerves eased. The atmosphere felt distinctly familiar, even nostalgic. Lincoln Elementary is in the Granite School District, where a majority of our state's refugee students are resettled.  My own elementary school sits only 4 miles north; I learned to speak Spanish in a dual language immersion program with approximately half of my classmates learning English as a second language. Maybe that's part of why I choose Refugees Welcome as my social impact initiative as Miss Utah, and why I found volunteering at schools like Lincoln so cathartic. I checked with the front desk – yes, definitely, put on the crown – and one visit to the Faculty Lounge later, I was 'suited up' and prepared to engage in the important work of discussing superheroes with six-year-olds. Here's a badly kept secret: I'm a total nerd about fantasy books and movies. Luckily, fandom is a great conduit to connect with people. Whether you're nine or ninety years old, it's easy to bond over the love of a movie, artist, or sports team. So I asked my kindergarten friend another question – did he like Batman or Superman more? – and we launched into a detailed discussion.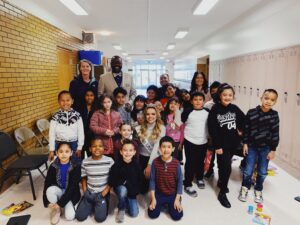 During the same visit, I took a quick tour of the adult learning center and spoke briefly with parents, volunteers, staff, and a social worker. It was an engaging, informative day – exactly the type of day I dreamed about for many years while working towards the job of Miss Utah. I've volunteered at United Way events like this for four years now, but I'm still working to get a comprehensive bird's eye view of how dozens of relief efforts work together to support refugees in our state. At this point in my year of service (nearly 8 months in with the clock ticking),  I'm feeling more settled in my role. Touring schools this year has provided a unique glimpse into challenges faced by early educational institutions in the post-COVID era; I've found that teachers and students alike are emotionally stretched thin after progressively uncertain years adapting to the pandemic. For that reason, I found that in the role of Miss Utah, my highest available calling during these visits was actually quite simple: to offer a bit of relief through human connection. I'm there to be a helper; a cheerleader; a listening ear. Most importantly, Miss Utah's directive is to show each person encountered that they are valued; to treat everyone like they're royalty.  
What's in a crown?
I spent nearly half a decade working towards the opportunity to wear my Miss Utah crown. Naturally self-conscious, I sometimes feel silly at events with a sparkly accessory bobbing atop my head in its four-pointed glory. But here's the crazy thing…. crowns work. It's magic, or something near to it. Throughout the day at Lincoln, I watched students (and teachers) literally light up with confidence as 'the queen of Utah' took time to ask about their day and listen intently. Zoom out, and I'm just a girl in costume jewelry. But we – as a society – believe in the crown. We want to believe in the crown. That's the magic of Miss Utah, the 'pixie dust' that makes her a force for good in the community. The crown– and accompanying legacy of MUO– offers a sense of legitimacy to a young female leader that is otherwise difficult to manufacture. Miss Utah's sheen of celebrity uniquely positions her to impact our state. And what I especially love about MUO is that the charm takes turns; each year, a new woman is ushered into the spotlight and offered her chance to take the reins. Thus, the ideology of Miss Utah is rooted in an idea that is keenly and distinctly American: that any woman could be her; that any one of us, at any moment, could be swept away by our own wildest dreams.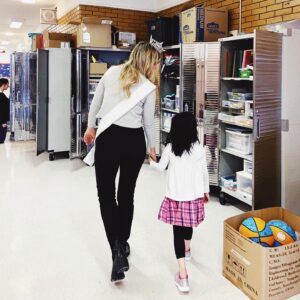 Happy 100, Miss America
Miss America's iconic white sash is a descendant of the suffragette uniform, a historical detail I attempted to pay homage to with my "Show Us Your Shoes" selection at the 100th Miss America Anniversary Celebration in Mystic, CT. Few institutions can boast that they've lasted a century. Miss America has survived as our nation's foremost iconic symbol of femininity, even through three waves of feminism that have examined – and continue to examine – what the role of women actually is and should be in society. The continued relevance of the Miss America competition, in my opinion, is that the competition itself is a fundamentally feminist concept. 
Women – adult women – pursue Miss America because they choose to. It's a sport to us; worth sacrificing, laboring, and anguishing over. For a small-town girl without professional connections, Miss America offers a bonafide once-in-a-lifetime shot at national exposure. In the same way that a little boy might dream of playing quarterback at the Superbowl, it's valid for women to wish for a national competition that gives them a shot at stardom and influence. It's also valid for young women to dream of holding influence within their own communities. Miss Utah isn't a beauty queen; she's a leader. A state title in MAO provides the organizational infrastructure and prestige that busts open doors and rolls out red carpets for social advocacy… all for an otherwise anonymous young woman. That's powerful. 
Plus, pursuing a 'crown' in MAO provides the opportunity to hold leadership within the organization itself. Many Miss America titleholders have pushed our program into the future through their own empowerment – Yolande Betbeze, Vanessa Williams, and Cara Mund, to name a few. Thus, I love the Miss America organization for its history of incubating women leaders, and I'm deeply appreciative that MUO helped me find my own voice. Collegiate women are infrequently presented with opportunities to air their opinions in a public forum; it's even less often someone actually listens or cares. Yet, a crown changes that.
Refugees Welcome
When I won Miss Utah in 2021, I was humbled and honestly deeply intimidated by the opportunity to promote an SII centered on advocacy for asylum seekers. Two years prior, I was spending twelve hours a day volunteering in Moria, a cramped and overpopulated detainment facility for asylum seekers on a craggy island in Greece. The nonprofit group that I signed up with, Help International, made their expectations clear: I should approach the exchange primarily as an informative experience. 'Voluntourism alone isn't impactful. You need to learn about what's happening to refugees and tell people what you saw, nonstop, for the rest of your life.'  I took their advice to heart. Starting in 2019, I dove deep into research surrounding refugee rights, migration patterns and structural violence. As Miss Utah, I knew I needed to be prepared to credibly defend myself in discussions surrounding contemporary policy. Immigration is a prickly topic. In an era where even seasoned politicians won't speak plainly about human rights granted to migrants, many folks I encountered thought I had a lot of gumption promoting the welcoming of refugees. Opportunities to defend my views presented themselves often. During one particularly memorable luncheon address, a gentleman in attendance actually started shaking his head at my message. In what world could refugees be something we all agree on? However,  two global events took place during my Miss Utah year that I feel contributed towards a shift in public opinion, and brought refugee issues to the forefront. 
In August, during my first few months on the job, the U.S. military announced withdrawal from Afghanistan – marking the end of our nation's longest war. Buzz swept over the state as Governor Cox signaled Salt Lake City would be welcoming an influx of allies fleeing Afghanistan. Then, in February of 2022, Russian military forces invaded Ukraine. More families fled, by the millions. Asylum seeking and the rights of displaced persons shifted, once again, to dominate national conversation. Promoting Refugees Welcome in the midst of these events has been the greatest honor of my life. It's my optimistic hope that global conflicts remind us that their story is our story; meaning that any one of us, at any point, could become refugees, and thus we need to treat refugees with the dignity we would like for ourselves. 
Community Conversations
Looking back on my experience as Miss Utah– and the years leading up to it – it's impossible not to humbly recognize the role of divine timing. I was in the right place at the right time, a blessing for which I will be forever grateful. I met Shurooq Al Jewari volunteering at the World Refugee Day celebration shortly after being crowned. She is an artist, ambitious advocate, and a future doctor. She is also a refugee. Most people are immediately struck by the differences between Shurooq and I; however, what Shurooq and I appreciate is our similarities. We share a passion for mental health advocacy, particularly, suicide prevention for marganlized teenagers. Over the course of six months, Shurooq and I worked together to create a Community Conversations workshop in partnership with the national advocacy group Their Story Is Our Story to foster conversations about inclusivity as it relates to mental health. The two of us were recognized with two national awards at Miss America for our social impact efforts; the Equity and Justice scholarship and the 2nd Place Overall Social Impact Award. Shurooq's friendship was truly a godsend during my Miss Utah year; she inspires me daily with her brilliance, courage, and organization (which is way better than mine). We plan to continue our partnership after Miss Utah, and I can't wait to cheer on Shurooq through all she will go on to achieve. 
To the Class of 2022
I'm going to teach you a new bit of vocabulary: Mjolnir. If you already knew it – congratulations! – you know it's the name of Thor's Hammer in the Marvel Cinematic Universe. Age of Ultron isn't critically acclaimed, but there is one scene in the film that I loved: a comedic bit that takes place in Avengers Tower, where the crew takes turns attempting to Mjolnir while Thor watches on with mixed emotions. According to legend, only those 'worthy' can lift the magic hammer… but what that really means is, only one person can hold it an once. 
Competing for Miss Utah (or chasing any other impossible dream) feels a little like that scene. You're reaching for a tool – albeit more bedazzled than the hammer – that you hope will give you the power to be a force for good in the world. You're not sure if you'll be successful… but it's worth giving it your best shot, right? Competition, by design, is an exercise in vulnerability. Putting ourselves out there to be judged is terrifying. However, there's value in trying, even (and especially) when you might fail. Confidence comes from taking risks and having those risks rewarded – even when the rewards aren't what you expect. I'm tremendously proud of each of you competing this week. You're pursuing something extraordinary, and that takes courage. But my guess is… there might be times when you doubt yourself. 
Through my years in MUO, I've learned that all of us, at some point or another, wrestle with questions of worth. Am I good enough? Have I done enough? I've seen those questions hung in the eyes of teachers, wondering about their students fighting mental illness. I've heard it from teenagers as we spoke frankly about insecurities. I've encountered countless parents – especially in the migrant community – wracked with guilt over their child's suffering in circumstances they did nothing to create. In these instances, there's only one thing I could offer: A listening ear. Empathy. Assurance that I've struggled with the same thing. I approached MUO for the first time as an insecure teenager, hoping to find inner value. However, the road to this job  – with its humbling twists, turns, and misdirections – taught me a valuable lesson: nothing changes about a woman when her name is called and the confetti falls. Truthfully, anyone onstage this week could handily fill Miss Utah's shoes. So the question isn't if you can lift the magic hammer. The question is: what will you do with it? 
Looking Forward
I see Miss Utah as someone that would fit in at Avengers Tower; committed to her values, fiercely protective of her community, and always ready to lend a helping hand. Excellence comes from all shapes, sizes, colors and my hope is that the Miss America organization will continue to evolve in a way that recognizes and rewards the substance and achievements of women from all backgrounds. In coming years, I hope we can offer particular attention towards expanding opportunities for underrepresented voices. As Miss Utah continues to pivot into the 21st century, I hope we look to ask inwardly: how can we evolve the standard of 'the ideal woman' to reflect what is praiseworthy in society today? How can we expand the Miss Utah community to include more voices, backgrounds and viewpoints? I want Miss Utah to sit confidently at the decision-making table amongst lawmakers and community leaders. She'll need sharp elbows, and detailed notes. 
To the Next Miss Utah
Buckle up, honey, you're in for the ride of your life! Trust yourself. It can be lonely underneath the weight of many eyes, expectations and opinions. Take it one day at a time, and try to follow Cinderella's advice: Have Courage and Be Kind. Find every opportunity to compliment, uplift and include. At each event, find the person in your path who needs your positivity– if you set intentions, they will be there! Guard against gatekeeping, and be generous about sharing your insight and expertise. Foster community over competition; a rising tide lifts all boats in the water, and there's room for everybody at the top. T Swift said it best: "… we see you over there on the internet / comparing all the girls who are killing it/ but we figured you out, / we ALL got crowns / you need to calm down." Most importantly, give it your ALL, because the years flies by!  
And if you, or anyone else reading this, find yourself asking: "Am I worthy?"… please know that the answer was always, always yes. 
THANK YOU
To all of our fabulous Miss Utah sponsors – thank you for keeping me safe and stylish during this whirlwind year! Thank you to Their Story is Our Story and Granite Education Foundation for your partnership in my social impact efforts. Thank you to the Miss Utah board, my beloved travel companions Dawn and Julie, all of the Miss Utah state and local volunteers, titleholders and family members for your part in making the magic happen, for me and every other participant. From the day I signed up as a teen competitor, I have been SO blessed by the support and guidance of countless volunteers in this organization that sacrificed their time and donated their efforts to turn this pumpkin into a stagecoach. Thank you to Katina, Jessica, Carlisle and the entire GSL family for their endless work to prepare me for each competition; you truly made my "impossible dream" a reality and I will forever cherish the hours that we spent in the Skyridge dance room practicing! Thank you to Kellie and the rest of the Davis County team for believing in me, even before I believed in myself. To each of the previous Miss Utah titleholders that mentored me in some way, thank you for your kindness and contributions to this program. To the Sorensen family, the Craig family, Kasidy & Kennedy, Lyle Larsen, Amy Rasmussen, Stephanie Gallagher, and Stephen Phan – thank you for lifting and encouraging me over the years! To my Little Miss Utah Addi – you are the most special little girl in the world & I feel so lucky I got to be your honorary big sister this year! Thank you to my rowdy family for being the world's most enthusiastic cheering section, and to my parents for teaching me to follow my dreams. I love you SO much & do everything to make you proud! To Christian: thanks for the graph & everything else. I love you. 
Miss Utah was something beyond my wildest dreams. I'm forever grateful. To every other person that has uplifted and supported me through this life-changing journey, whether it was a kind word or a DM or even tagging me in a meme on TikTok – Thank you. I love you. I hope to pay it forward, and I will treasure this experience forever. 
Signing off for the last time, I'm Miss Utah 2021, Sasha Sloan. 
xoxo