These past two years have changed me. Each day as Miss Utah has taught me how to love and grow more than I originally thought was possible. This has been a dream of mine since I went to my first Miss America Competition at the age of eight. The moments that I most clearly remember from my reign are the times I had the opportunity to get down on a child's level and truly understand who they are and help them recognize the potential they possess.
I participated in this program because I had a message to share. These two years have given me connections and networking opportunities that have allowed me to share what I believe is vital to our society. I have cherished each day and am eternally grateful for this experience.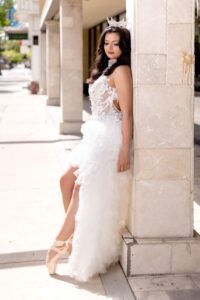 "Servesteem – Increasing Self-Esteem Through Service," my social impact initiative, is in memory of my Uncle Lynn who was mentally and physically disabled. My family and I were his legal guardians, and I spent a lot of my young life serving him and the other men at the facility he resided. He was my best friend, and his love for life helped me to understand how short it really is. He passed away when I was 13-years-old and it left me feeling utterly alone. I needed to find a way to heal in his absence. I came to the conclusion that I not only enjoyed being with Lynn so much not only because he was my best friend and I loved him, but also because I was serving him.
This discovery set the foundation for my Social Impact Initiative, and I try to live each day with love and charity like my Uncle Lynn would. This perspective has helped me find inner peace and understand what true happiness feels like. Throughout my service as Miss Utah, I have challenged each person I've met to experience this for themselves. Like Mahatma Gandhi once said, "in a gentle way you, can shake the world." 
I express my deepest appreciation to each individual who has supported me through my years of participation in the Miss America Organization. I am incredibly grateful to my friends, family, and board members for being with me every step of the way. The last couple of years have been more than I could have dreamed and it is very bittersweet to see this chapter come to an end. I am excited to use the skills I have developed through the Miss Utah Scholarship Organization throughout the rest of my life. Miss Utah has given me the ability to truly become the person I was meant to be.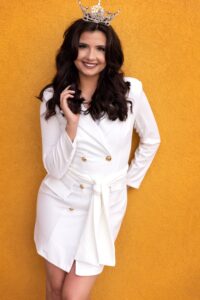 Thank you to my Mom, Dad, Axuray, Tayxa, Mckayde, and Grandma for dropping anything to help me with what I need. Thank you to the Miss Utah board — Carly, Whitney, Nikki, Valerie, Madison, Landon, Sean, Shantay, Lauren, and the rest who have allowed me to reach my full potential.  Thank you to all of you for supporting, helping, and encouraging me to become the woman I am. Miss Utah has changed me for the better and these two years have been a gift. As Gandhi said, "the best way to find yourself is to lose yourself in the service of others."