One of my favorite Christmas traditions is visiting Utah's Festival of Trees! This year it ran from November 27th – December 2nd and I was lucky enough to be there almost every day that week. My family is always involved in some way including my Aunt Tiffany and Grandma Kathy. My Aunt RaCail is also on the board of the festival and helps with public relations.
For those of you who don't know about the festival, the Festival of Trees is an annual event run by volunteers. Christmas items such as trees, wreaths, doors, fireplaces, playhouses, etc. are all donated by individuals and then auctioned off. 100% of the proceeds go to our local Children's Miracle Network Hospital, Primary Children's Medical Center. Some donors decorate trees in honor of someone who benefited from Primary Children's or who has passed away.
Contributing to Utah's Festival of Trees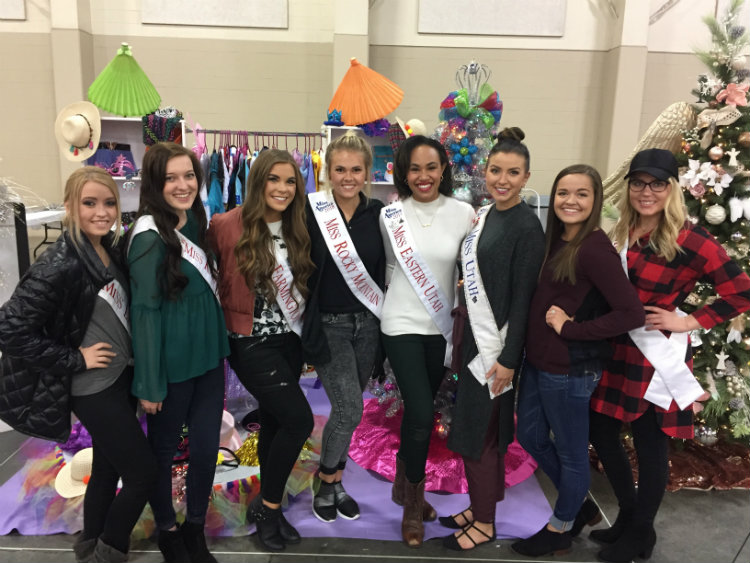 This was the second year the Miss Utah Organization has decorated a tree! Contestants donated each ornament for the theme "Miss Utah's Closet." We all gathered on Monday to decorate it together. It took around 3 hours with so many helping hands. If you missed seeing the tree, you missed a glimpse of every little girl's DREAM dress-up room! It was perfect. There were around 60 costumes, jewelry, hats, scarves, crowns, earrings, a closet, two trees, and even a stage!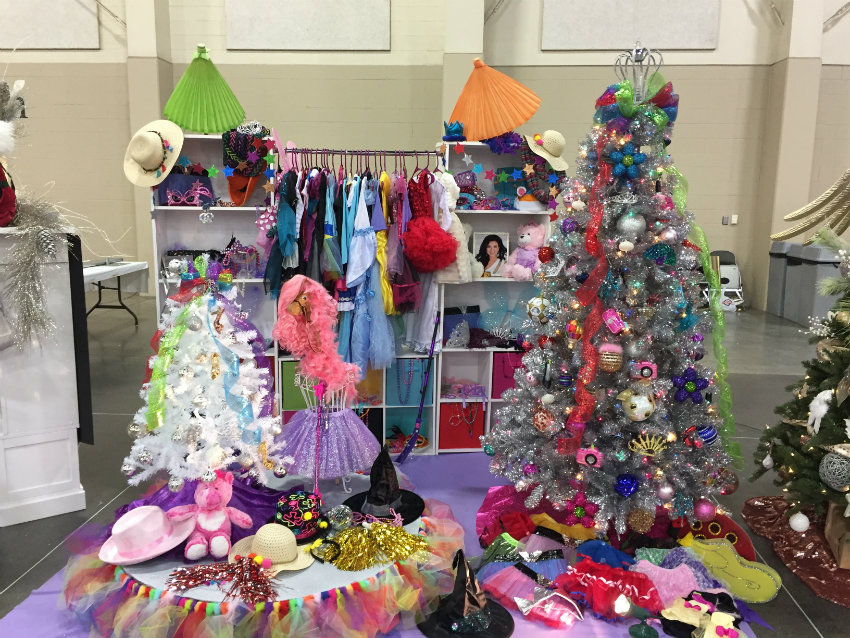 Volunteering at Utah's Festival of Trees
On Tuesday, we gathered a group of local titleholders to volunteer as hostesses. The job of a hostess is to protect the trees and to share their stories. As soon as I got to my trees, I knew I was in for a special night. I started reading each of their stories and was overcome with emotion. One tree that I became particularly close to was in memory of a young man who would have been my age but passed away suddenly. He loved BYU and the outdoors. As I was watching over the trees, I noticed a couple that stood by that tree a little longer than the others. I decided to talk with the couple and asked if they wanted to hear the story behind the tree. They laughed and told me they knew all about this tree because the young man was their nephew. We shared a couple of tears, and they shared what an incredibly caring person this young man was and that he would be so proud that Miss Utah was watching over him. Of course, more tears.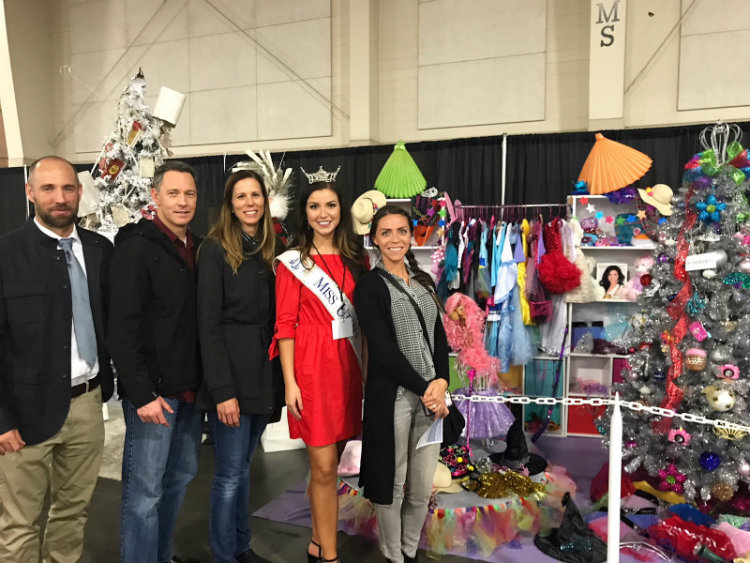 That was not the end of my night though! Towards the end of my shift, two couples approached me and asked if I had helped decorate the Miss Utah tree. After chatting for a little bit, they told me that they were the individuals that purchased our tree! The company they work for always buys some of the trees and donates them to someone in the community who could use some Christmas happiness. They told me that our tree would be going to a family with little girls (who love to dress up) that were going through a hard time. I was so happy to hear that it would be put to good use and shared the happy news with all of the contestants who contributed!
Attending Utah's Festival of Trees
On Wednesday I participated as JessiKate. My youngest brother, Dalton (11), was born with some disabilities. His newest obsession is StarWars. Our Aunt RaCail told him that BB8 would be there Wednesday as the celebrity guest. I have never seen anyone SO EXCITED as Dalton was!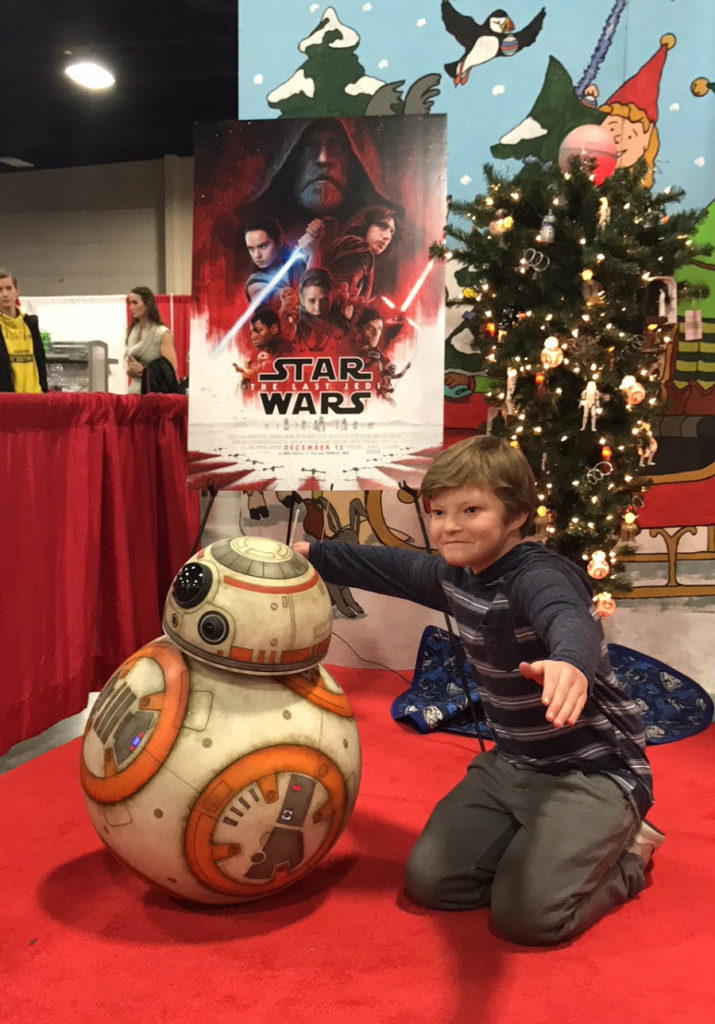 I picked him up from school early, and we went on a date together. As soon as we got to the festival, we waited in line to see BB8. When he came out, Dalton was jumping and waving and calling out his name.
The robot looked in our general direction, and I thought Dalton was going to have a heart attack. He turned to me and said, "He looked at me, Jess, he looked at me!" Each child was warned not to touch the droid straight from the set of the new movie.
When it was finally Dalton's turn, he was so afraid to get closer than 2 feet away from it! After coaxing him closer, he got to interact with BB8; it was so cute. He asked him all sorts of questions about the new movie, and BB8 answered (of course in his language). After leaving BB8 with the cutest air hug you've ever seen (it even made the news), Dalton decided one interaction with the droid was not enough. We got back in the line to see him again. This time he wanted to film their interaction himself. They were just as cute the second time as the first. After seeing BB8, we participated in all the fun activities available to the kids including making a phone call to an elf and visiting with Santa. It was so special to spend time with Dalton at the festival because Dalton spent quite a bit of time at Primary Children's.
Media at Utah's Festival of Trees
Thursday's festival interaction started bright and early! I woke up at 3:45 am to get ready and travel. It was so fun to be the taste tester for Shawn and Trace on KSL during their morning show. [huge_it_gallery id="5″]
They did all sorts of crazy stuff including racing golf carts through the trees! I tasted the fudge and gave reviews on my favorite flavors. Of course, their favorite part was asking me questions while I had chocolate in my mouth!
I was sad that I wasn't part of Friday or Saturday but also very thankful that I was able to witness the magic for four special days! If you missed the festival this year, I hope this gives you a glimpse of how special it is and inspires you to be a part of Utah's Festival of Trees next year!