On Saturday, March 9, 2019, the SCERA Center for the Arts presented The Miss Utah Organization with an "Advocate of the Arts" award as part of their 14th annual benefit arts gala.
Miss Utah 2018 Jesse Craig was in attendance and performed her violin.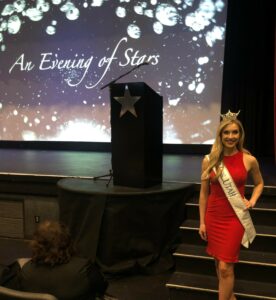 Carly Condie, Executive Director of the Miss Utah Scholarship Organization accepted the award and said,
"We are honored… and by we I mean on behalf of the hundreds if not thousands of young women across the state of Utah that for 92 years have participated in the Miss Utah Organization and performed on the Miss Utah stage."
A key portion of the Miss Utah Competition is the talent phase, which accounts for 50% of a candidate's preliminary score and 30% of their final score. Because of the high caliber of talents performed on the Miss Utah stage, the program awards extra scholarships to stand out talent performances.
Miss Utah is expected to be talented and ready to perform for an audience at any time. Many former Miss Utahs were recognized at Miss America for their exceptional talent performances. Most recently, Miss Utah 2018, Jesse Craig, received a non-finalist talent award and scholarship for her violin performance at the 2019 Miss America Competition.
"We recognize that the scope of talent and commitment to the arts in Utah is tremendous, and the Star Awards are a way of calling attention to their achievements and applaud their talent and dedication," says Adam J. Robertson, SCERA President & CEO. "The challenge of the nominating committee is in choosing from an amazing array of people, which is the kind of challenge every arts organization should have."
Other recipients included:
For more information on each recipient, see the Daily Herald's article about the winners.