During finals night of the Miss Utah Scholarship Competition, the Huish family took the stage to present one of the most honored scholarships of the week; the Sadie Huish Memorial Scholarship.
Their daughter Sadie Huish had magic and light to her that always left those around her beaming. The oldest child in her family, it was frequently said, "If you could bottle up Sadie's laugh and sell it to the world, you would be rich!"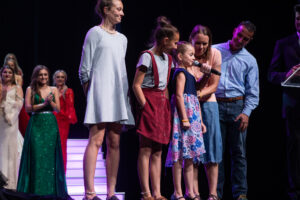 Not long after Sadie turned just 5 years old, she was diagnosed with brain cancer. Regardless of the amount and type of treatment she received, the family was told it would eventually take her life. It was at this time Sadie became a cherished part of the Miss Utah Organization. For the week of Miss Utah, each candidate that competes chooses a Little Miss to accompany her on stage where they get to perform a dance routine, accompany their candidate during the evening wear competition, and attend events throughout the week.
In the midst of Sadie's fight against cancer, she was selected by Miss Eagle Mountain 2008, Kim Onions, to be her Little Miss. A great friendship was cultivated and they had a wonderful experience at the Miss Utah 2008 pageant. The following year, Miss Eagle Mountain 2009, Jessica Bare, selected Sadie to be her Little Miss as well. Unfortunately, her cancer quickly progressed and she was too sick to attend the Miss Utah Competition in June of 2009. On June 25, 2009, Little Miss Sadie Huish passed away. She was laid to rest wearing her beautiful white Little Miss dress and her Little Miss crown.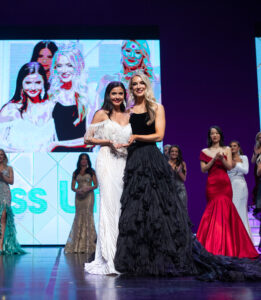 Since Sadie's passing, the Huish family has chosen to preserve Sadie's memory by honoring the candidate who has gone above and beyond in serving her community through her chosen social impact initiative. This year's winner of the Sadie Huish Memorial Scholarship was Miss Greater Salt Lake, Dexonna Talbot. She received a $1,000 scholarship. This is the first year the Huish family has selected a recipient who also ended up receiving the title of Miss Utah.
Dexonna's social impact initiative is "Servesteem — Increasing Self Esteem Through Service." Over the past 5 years, she has been involved with multiple service projects including being a mentor for a special needs dance class, weekly volunteer work for Kids on the Move, an intern with elementary school special education programs and a dance program she created for students with special needs. In addition, she has traveled and built homes with Builders Without Borders and provided hygiene kits, clothing, and school supplies to children in orphanages in Vietnam.
Dexonna believes that through service, anyone can find happiness. Everyone can contribute in multiple ways and her social Impact Initiative is geared towards helping others find their preferred acts of service. Through her service and her Servesteem social media pages, she helps others find what they are passionate about by sharing service opportunities to create their hunger and desire to serve.