Hey friends! 
It's Sasha, back with another post sharing my tips & tricks for competing in the Miss America Organization! In this blog, I'm sharing some of my best advice for candidates hoping to maximize the impact of their social impact initiative (SII). 
Service is the heart and soul of the Miss America Organization. I chose to compete for Miss Utah because of the opportunity it provides to serve our community and promote an issue that I care deeply about. Using the podium of Miss Utah to advocate for the human rights of asylum seekers has been the greatest honor of my life. It's my hope to help as many other young women as possible have a similar experience – so without further ado, here are eight tips that I've learned over the years to maximize the impact of your SII! 
1. Take Your Time Choosing Your Topic
In my opinion, your social impact initiative should be based on a topic that you'd still love to be discussing in 60 years. Whatever social issue really lights your soul on fire – that's what you should pursue! I chose "Refugees Welcome" as my social impact initiative because I could picture myself later in life, as a teeny tiny old lady, ranting about migration with the same passion I feel right now. Whatever that topic is for you– it would make a great SII.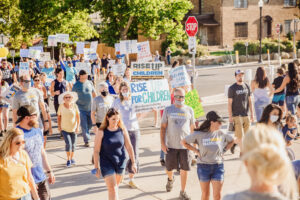 2. Do Your Research
Before you choose a plan of action, start by researching your cause. Who does it affect? How long has it been an issue? What are the politics surrounding it? Is there funding available? Where does the funding come from? What is the scope of national awareness? Local awareness? You'll need to be able to answer all these questions and more!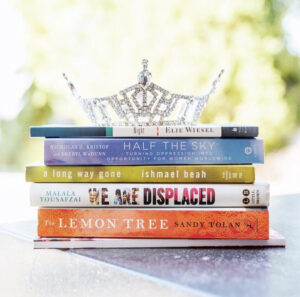 I started my research by searching online for the nonprofits, churches, government agencies, and neighborhood groups currently operating to support Utah's refugee community. I read their websites, googled their founders, watched videos on their YouTube channels, and found relevant articles in newspapers. I read scholarly articles, paying close attention to authors, publishers, and source citations. I dove into the literature surrounding the global migration crisis and studied firsthand perspectives in memoirs like The Girl Who Smiled Beads, The Ungrateful Refugee, and We Are Displaced. 
All that research guided my strategy for my social impact initiative and helped me understand the do's and don'ts of advocacy work and what narratives were important to highlight or omit. Competing for Miss America means having the unique opportunity to defend your views on national television– a good foundation of academic research will set you up for success.
3. Don't Reinvent the Wheel 
I don't think it's necessary to have a completely "original" idea for your SII. It's key to work in harmony with what's already being done on behalf of your cause. In the early stages of researching my social impact initiative, I set up meetings with volunteer coordinators, toured facilities and familiarized myself with the infrastructure in place. Utah has a vibrant network of refugee support agencies; because there is so much wonderful work already being done, I have found that the way I can be most effective is to support our nonprofit community and leverage my network to assist their efforts. 
Some of the groups I've worked with this year (that I'd encourage you to explore):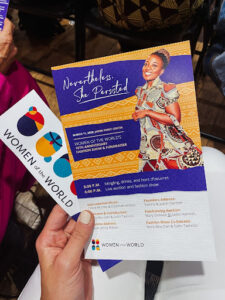 4. Get Creative with Fundraising
Oftentimes, the best way to make an impact is to simply raise funds. There are lots of different strategies for fundraising – I'm not necessarily an expert at this in any way, but what's worked for me is trading my skills for money and donating whatever I earn. Some examples might be helpful, so here's a list of what I've seen used to fundraise:
Photography mini-shoots (this is how I fundraised for Miss Utah!)

Art or graphic design

Baked goods or meals

Music lessons or instruction related to your talent (karate, art, etc)

Sports coaching

Day camps 

Car wash

Hot chocolate stand

Fundraising events, parties, and galas

Childcare 

Social media content creation

Knocking doors 

Selling handmade items on Etsy

Busking for tips 
5. Search Online for Volunteer Opportunities
Part of the job of Miss Utah is engaging in the local community and rendering service wherever I can. That means attending a lot of fun local events – city, county, private, public, business and non-profit… the list goes on! To be effective at promoting your social impact initiative, I'd suggest becoming familiar with offering community events in your area and contacting organizers with suggestions of how you could get involved.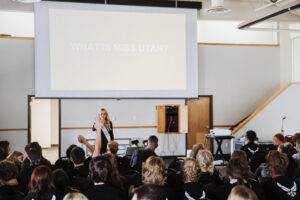 6. Query Schools and Non-profit Organizations
Most doors won't open unless you knock. To get traction on your social impact initiative, I'd recommend finding contact information for organizations that align with your interests (including schools) and sending a customized query letter outlining your goals, skills, and availability. 
Here's an example of a letter that I sent in 2018 as Miss Deseret: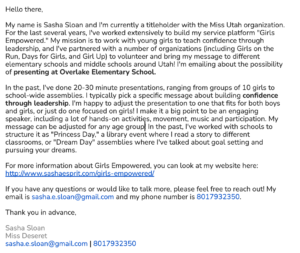 I also have had a good experience using websites and apps like Golden Volunteer Opportunities and Just Serve.
7. Find Support Within the Sisterhood
You will enjoy social impact work more if you work alongside others who share your passion. The Miss Utah community has become a second family to me as I've spent years volunteering alongside other outstanding women at countless events across the state. These friendships are priceless!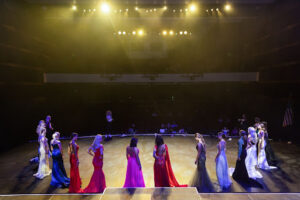 The value of the Miss America sisterhood can't be overstated, and I am so deeply appreciative of each woman that I've encountered in our Miss Utah community that has taken the time to mentor and encourage me. I started to type up a list but had to quit because my eyes filled with tears. Safe to say, the Miss America sisterhood has shaped me into the woman I am today. My advice to anyone new to the Miss America Organization is to take every opportunity to build friendships and make memories! 
8. To Travel Far, Travel Together
This year, I've also had the unique opportunity to team up with my co-author Shurooq Al Jewari to present the "Inclusivity Conversations" educational series across the state of Utah. Shurooq is the Community Outreach Coordinator for Their Story Is our Story and a student at Salt Lake Community College. For my social impact project as Miss Utah, we developed a curriculum together fostering discussions among Utah students pertaining to mental health and social exclusivity. Shurooq and I share a passion for mental health conversations, and partnering with her has been the highlight of my Miss Utah experience.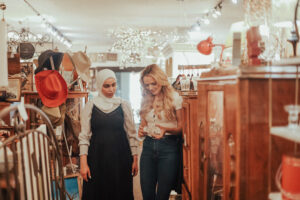 Click here to visit Shurooq's website and learn about her advocacy work. We are excited to share our school presentation wherever and whenever possible — please shoot us an email at bookings@missutah.org if you are interested in bringing the presentation to your business, school, or organization!
Conclusion
"The best way to find yourself is to lose yourself in the service of others."
Mahatma Gandhi
I wish you the best of luck in promoting your social impact initiative! I hope this blog post was helpful, and don't hesitate to send me a message if you have a particular question you want me to answer in a future post! 
XOXO and hope you have a fabulous week,
Sasha Sloan