Hello everyone! 
It's Lindsey, back with another blog post! After taking some much needed rest after Miss America, I had the incredible opportunity to be recognized by my hometown's mayor and city council for my service as Miss Lehi – the first title I held in the Miss America Organization.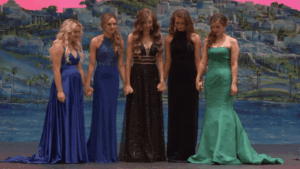 This had me reflecting on my journey to becoming Miss Utah. The road to Miss Utah starts at the local level, and all state contestants must first enter and win a local competition to qualify. Local competitions are held throughout Utah and are approaching very quickly! I want to help you feel confident walking into your competition, so here are a few steps to get started.
How to register for a local competition
First, what is Miss Utah?
The Miss Utah Scholarship Organization (MUSO), is a 501(c)(3), and an official state preliminary to the Miss America Competition. It is one of the largest scholarship organizations for women in America. The MUSO promotes community service, academic success, style, and sisterhood and is considered a launching pad for women to further their academic and career goals.
Why participate?
Gain valuable experience and develop life skills

Win scholarships for college, graduate school, and to pay off student loans 

Explore new interests and discover new opportunities

Make lifelong friends with motivated women

Foster a positive, self-motivated mindset to achieve your goals

Receive recognition for your efforts and your community
How do I get started?
First, you must determine if you are eligible to compete. Do you meet the age, citizenship, and residency requirements? 
Be age 18 – 28 for Miss America (birth years 1996 – 2006)

Be age 13 – 18 for Miss America's Teen –(birth years 2011 – 2006)

Be a United States citizen

Be a female

Meet residency requirements for competing in your city or state, or attend school full-time in that community
If you are eligible, you can register on the Miss America website and pay a one time registration fee of $35. 
Now that you have registered, select a local competition near you from the Miss Utah website and email the local directors to confirm your eligibility for that specific local competition.  
Competitions in Utah
We have two types of local competitions in Utah:
A

City/County Title

with geographic constraints. Contestants must live, work, or attend school within the City or County, and the titleholder position typically involves community-focused opportunities within that City or County.

An

Open Title

with no geographic constraints. Contestants must live, work, or attend school within the state of Utah, and the titleholder position typically involves Community Service Initiative related appearances initiated by the titleholder.
Once the local directors have received your email, they will contact you and let you know when orientation and workshops will take place to help you prepare for the competition. 
I can't wait to see you rock the stage at your local competition! Wishing you all the best through your journey competing in the Miss America Organization.
All my love, 
Lindsey Larsen