Hello everyone!
My name is Sasha Sloan and I'm delighted to introduce myself as Miss Utah 2021, representing the Beehive State at the 100th Miss America competition! I've wished and worked for this job for nearly a decade, and can't wait for the opportunity to meet each of you (whether online or in-person). I'm also looking forward to using this blog to share deeper insight into my experiences, thoughts, and journey as Miss Utah. To kick things off and get to know each other better, here's a list of ten facts about me that might surprise you!
1. I was born at the stroke of midnight
It's a running family joke that I technically have two birthdays, because I was born exactly at the stroke of midnight between May 12th and May 13th.  I was born and raised in Salt Lake City. I'm the youngest of six kids and I have four sisters! I'm also a Taurus (for those of y'all who love personality tests as I do), a Type 3 enneagram, ENFP, and a Slytherin. If I were to describe myself in three words they would be ambitious, creative, and passionate.
2. I competed in the teen program to build my confidence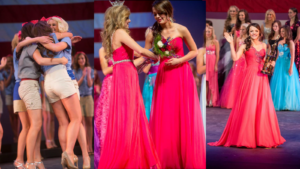 As a Miss Utah competitor, I believe most would describe me as confident and self-assured. However, as a child, that wasn't my reality. I was an extremely nerdy little girl and a bit of a know-it-all— imagine a personality resembling Hermione Granger from Harry Potter and the Sorcerer's Stone. Finding friends was a struggle, and I remember countless afternoons walking home in tears because I got teased at church and school.
When I was in middle school, I found the information for Miss Utah's Outstanding Teen online, and signed myself up, hoping that it would build my self-esteem and help me make friends. In another blog, I'll share more of my Miss Utah journey in-depth, but it's safe to say that I found what I was hoping for and much, much more! 
3. My social impact initiative centers on refugee advocacy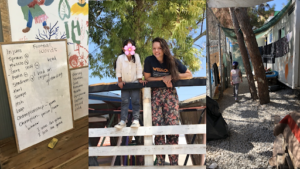 Utah is privileged to be home to approximately 60,000 refugees, or in other words, individuals who have been forced from their native countries by violence or persecution. Throughout my year as Miss Utah, I will be working alongside local non-profits to educate native Utahns about the global refugee crisis and assist post-resettlement support efforts. I'm excited to share more about this in future blog posts, including ways that the Miss Utah community can support our local refugee community.
4. One of my aspirations is to be a New York Times best-selling fantasy author
Remember how I mentioned that I was a lonely child? Instead of playing with my classmates at recess, I often found myself sitting on a bench in the playground with a paperback book and escaping into fantasy stories. I developed a voracious appetite for reading and fell in love with series like Harry Potter, The Hunger Games, and Percy Jackson and the Olympians. By the time I was twelve, I had started writing my own novels for fun. Over the years, I've completed a half-dozen manuscripts and dream of one day publishing my work and landing on the best-seller list.
5. My favorite phase of the Miss Utah competition is the Onstage Question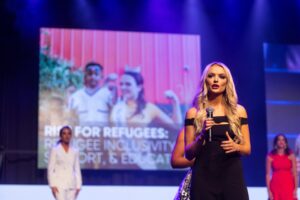 As a high school student, I spent most weekends dressed in a pencil skirt, high bun, and black pump heels, competing at a Speech and Debate Tournament. Or I'd be at Mock Trial practice, working on a case for the next tournament. I was lucky enough to win state championships in both Speech & Debate and Mock Trial, and have been privileged to travel the country and globe competing at various Model United Nations conferences. There's nothing that I love more than speaking for an audience! 
6. I can catch a trout with my bare hands
Utah is world-renowned for our outdoor living, and I was incredibly lucky to spend many hours as a child running wild in the forests, lakes, and redrock near the Wasatch Mountains. Hiking, camping, wakeboarding, lizard catching, and horseback riding were all staples. I loved teaching myself wilderness survival skills from books, and earned myself the nickname "Katniss Everdeen" from my family due to my proclivity towards climbing trees and starting fires. Catching a trout with my hands (sometimes called "tickling" or "noodling" trout) is one of the favorite wilderness skills I've taught myself over the years. In other words, I'd be great to have on your team in a zombie apocalypse.
7. I cheer for both sides at the Holy War
I'm a senior in the Political Science program at Brigham Young University, despite growing up cheering for the runnin' Utes in a family of die-hard University of Utah football fans. I've had a fantastic experience in my department at BYU, including working in the Women's Services & Resources office and traveling to Shanghai with the Model United Nations contingent. These days, I cheer for both schools (as long as they're not playing each other — in which case — go Utes!). 
8. My talent is vocal performance, but my secret talent is (very goofy) freestyle rapping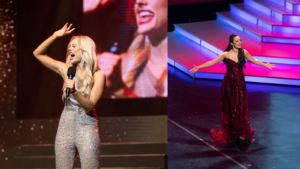 In the talent competition at Miss Utah, I sang Frank Sinatra's "That's Life" to showcase my background in musical theatre. I love to sing (especially broadway or Taylor Swift), but my favorite talent to showcase when I speak to elementary schools is freestyle rapping. 
9. Cinderella and I have never been in the same room at the same time
Halfway through my freshman year in college, I decided to audition to become a Disney character performer. To my astonishment, I got the gig! A few months later, I packed up everything I owned into my hatchback and drove across the country to start my job at Walt Disney World in Orlando. I won't tell you exactly what my job was (I want to keep the magic alive!), so let's just say that I got to spend some very magical time with Cinderella. 
10. The force is strong in my family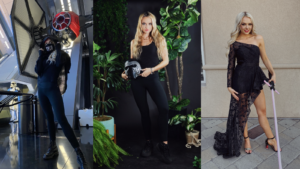 This might be the least surprising fact for some readers, but I'm a massive Star Wars fan and hold a very special place in my heart for one particular character, Kylo Ren. Each year during the Miss Utah competition, candidates are given the opportunity to showcase their personality at the Show Us Your Shoes parade, and each year that I competed, I wore shoes to represent my favorite galaxy far, far away. 
11. I started a business during the pandemic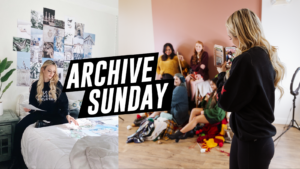 During the Covid-19 shutdown, I had the idea to start a side-hustle advertising my art on the app "TikTok." I started making fantasy-inspired collage wall art and dubbed the brand Archive Sunday — named for incorporating recycled materials "out of the Archive" and Sunday for releasing a new product collection every week. I documented the small business with daily videos, and to my astonishment, the brand became a bit of a viral sensation and accrued more than six figures of revenue in the first hundred days of operation. Thankfully, my sister and business partner has prepared to take over the operations while I'm serving as Miss Utah! To read more about Archive Sunday, you can check out this article in Utah Business.
12. I won Miss Utah on my third try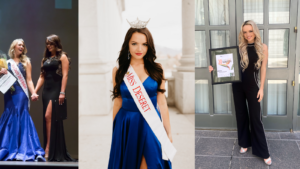 The journey to Miss Utah has been the most humbling and rewarding experience of my life. It takes vulnerability and grit to get up and try again, and as I am starting this job, I feel so grateful for each year spent competing that I didn't win. The two years in the teen program, the year spent as an attendant in a local royalty, and the four years spent competing at Miss Utah (thank you Covid for the extra year of prep!) as Miss Davis County, Miss Deseret, and finally Miss Greater Salt Lake. Each year taught me something new and renewed my passion for the program, and it makes me so grateful to look back and see how far I've come.
I am so excited to serve this state for the next year as Miss Utah! Don't forget to keep up with my journey @sashaesloan on Instagram and TikTok, as well as following the official Miss Utah page @missamericaut. 
All my love, 
Sasha Sloan